As Seen on Dr. Oz, The Doctors, and Good Morning America
Pleasant, Comfortable Treatment. Immediate and Lasting Improvement.
If you're wondering how you can refresh your appearance without surgery, the Pellevé Wrinkle Reduction System may be right for you. Watch the Pellevé Video at right.
The Pellevé System safely and effectively treats facial wrinkles with virtually no pain and no downtime. In fact, patients who have had a Pellevé treatment say it feels like a warm facial massage.
How Does Pellevé Work?
Pellevé gently delivers heat to the dermis resulting in new collagen stimulation. This causes immediate tissue tightening and collagen remodeling over time.
For more information on Pellevé, please call us at 772-589-8111 or stop in to see before and after pictures of our clients who have already experienced the benefits of Pelleve'.
The Most Commonly Asked Questions
What Can I Expect?
A subtle gradual change of tissue tightening over time.
Smoothing of fine lines and wrinkles, such as crow's feet and facial laxity.
The results continue to improve over time. New collagen stimulation is the skin causes additional tightening and improves skin texture.
Results are subtle but noticeable. This does not look like you had a facelift. It is a more natural tightening effect.
The results can last six months or several years depending on the treatment regimen.
Is There Downtime?
There is no downtime. Redness and mild swelling may occur, but this typically is transient and dissipates quickly after the procedure. You can return to your normal activities. You do not have to stay out of the sun if proper sun protection is used. Make-up can be applied to that area immediately after the procedure.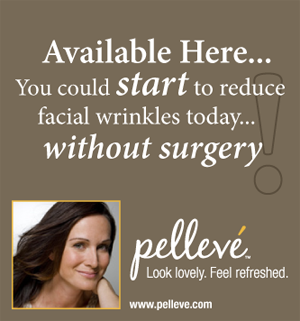 Is it Painful?
No. Treatment is well tolerated and feels warm to hot much like a hot stone massage.
Best Areas to Treat
Eyes (Periorbital Region): Pellevé softens crow's feet, improves skin texture, and lifts the overall aesthetic look ot the eyes.
Mid-lower Face: Pellevé reduces the nasolabial fold and softens the marionette lines. Pellevé tightens skin laxity and improves skin texture.
Overall Facial Skin Improvements: Pelleve improves the skin wellness with stimulation of new collagen this improves skin texture and smoothing of facial laxity.