No two people's hearing needs or preferences for treatment are the same. Fortunately, the days of only having large, clumsy-looking, beige hearing aids to choose from are over. Today's models are tiny, high-tech marvels so surprisingly stylish that it's perfectly okay if someone catches a glimpse. Modern hearing aids feature useful options to suit almost every hearing loss and fit into any lifestyle.
Cellion Primax Hearing Aids

The world's first lithium-ion, inductive-charging hearing aid.
A versatile RIC that treats all hearing losses.
New Cellion™ primax™ hearing aids are available for nearly all hearing losses. Cellion can be fitted with various domes or custom molds so that anyone can benefit from this new, rechargeable offering.
Tiny device.
Cellion is the only inductive, wireless, and contact-free rechargeable hearing aid in the world. Yet it is still one of the smallest hearing aids in general, being only slightly larger than Pure® primax.
24 hours operating time, even when streaming.
Cellion's power management is breathtaking, unrivaled by any other hearing aid. Regardless of the hearing loss treated, it can run for at least 24 hours with unlimited streaming.
The power cells have a lifespan of several years, easily lasting the entire life of the hearing aid. Even if an exchange of the power cell becomes necessary, it can be done by any hearing care professional.
Intelligent charging and mobile-charging ready.
Cellion can be fully charged in four hours, and is then ready to use for at least 24 hours without recharging, even if the wearer is streaming audio full-time.
A 30-minute "fast charge" immediately provides Cellion more than seven hours of run-time.
Thanks to the integrated lithium-ion power cell users don't even have to think about batteries anymore. This not only reduces handling — it saves money and is eco-friendly.
Unique inductive charging also eliminates the need for any exact alignment of charging contacts, making it the easiest possible charging process ever. Left- and right-side hearing aids can be inserted into the new charger as desired, because it makes no difference to the charging process.
For travelers, the charger unit is equipped with a standard micro USB interface, enabling users to charge the hearing aids with nearly any USB-compatible power source (e.g., laptops, car adapters, or power packs).
Other Products We Offer
Siemens – Swimming or Bathing Protection
Siemens Swimming and Bathing protection are waterproof ear plugs which are custom molded to your ear and prevent water from getting into your canal. For most of us, living on Florida's east coast means that water activities are part of our daily life. Water from pools, lakes, springs, and the ocean harbor bacteria and can become trapped in your ear canal and cause painful swimmer's ear or ear infections. Protect your ears with Siemen's Waterproof Ear Protection! Available in a variety of colors.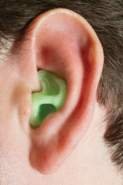 ---
Siemens – SecureEar™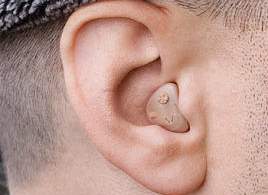 Amplify Nature. Silence Noises. SecureEar™ is a revolutionary sound-enhancing custom instrument that protects your hearing from excessive noise and loud sounds while also incorporating hearing technology that picks up and slightly amplifies the sounds relevant for hunting (including soft sounds like leaves rustling or a normal conversation.) Not only can you get rid of your cumbersome earmuffs, you can still receive phone calls via the device's Bluetooth connection. From a day out hunting, at the shooting range, at the race track or working with heavy machinery, Siemens SecureEar™ has you covered!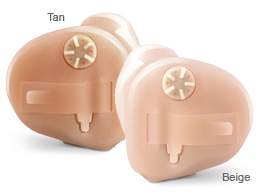 ---
Siemens - Hunting / High Decibel Protection
Siemens Hunting and High Decibel protection are soft, pliable custom ear molds which block out loud noises which can potentially damage your hearing. They are specifically designed to offer maximum protection from loud, harmful sounds and the sudden "impulse noise" coming from a gun. Replace your cumbersome ear muffs with Siemen's compact ear molds. Available in a variety of colors.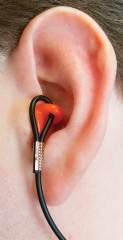 ---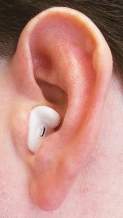 Siemens - Musician & Music-Lover Protection
Siemens Musician and Music Lover Protection are small and discreet with natural sound quality. They are designed to help protect your hearing while enjoying loud music as a spectator or as a musician in a band.
---
Siemens - Noise Shield Protection
Siemens Noise Shield protection is designed to protect your ears in the workplace. Exposure to workplace noise has been linked to stress, high blood pressure, headaches and tinnitus. This revolutionary custom hearing protection safeguards your ears on the job comfortably, discreetly and without sacrificing speech intelligibility.
---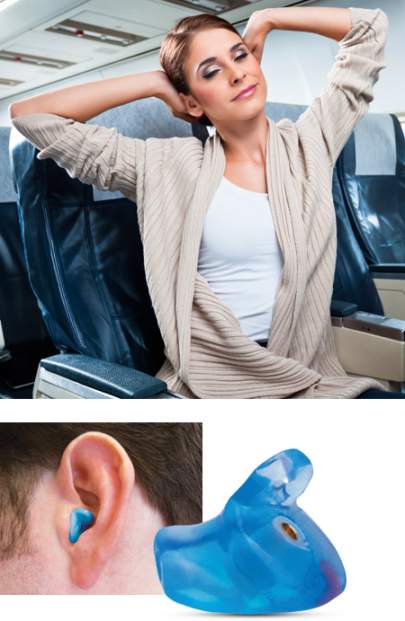 Siemens – SkyComfort
Siemens SkyComfort is designed for flight noise protection. They reduce disturbing loud noises like turbine or engine sounds occurring during flight, but doesn't stop the ability to communicate or hear flight announcements.
---
Hearing Aid Batteries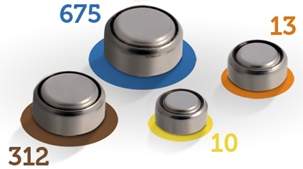 ---
Earmold Color Options